The Winexpert Eclipse Wine Kits lineup is the supreme option for home winemakers. These are the most premium kits available for home winemakers. These Winexepert Eclipse Wine Kits come with everything you need to make the highest quality homemade wine you will ever drink. The kits include juice sourced from premium vineyards around the world. Not only do the kits include premium juice, but they also include the best part of the grape, the grape skin itself.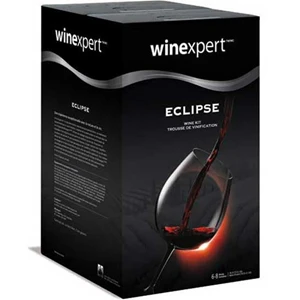 Grape skins are the best way to add flavor to your homemade wine. That is wine the Winexpert Eclipse wine kits include premium grape skins with every kit. You'll be able to extract rich color and tannins from these grape skins. Give you wine that perfect mouthfeel, flavor, and aroma. With this kit, you can produce a wine that will rival many of the fancy wines around the world. Do a blind taste test with your friends and be amazed at the results. If your selected variety is designed for oaking, then you'll also get the oaky flavor that you are looking for. I can't stress enough how high quality these wine kits really are.
These kits also come with all of the other ingredients you need to make wine. Along with the highest strength premium juice and skins, you will get the additives and packages that you need to add during the winemaking process. You'll receive bottle labels and varietal stickers complete with wine descriptions. The kits include an optimized dual yeast process for outstanding complexity of tastes. The ingredients include yeast, bentonite, potassium met bisulfite, potassium sorbate and a fining agent. Some kits include oak depending on the varietal.
These Winepert Eclipse kits are tried and true. With quality on par with commercial wineries, you'll get that intense flavor, structure, and character of your varietal that you are looking for in a high-quality wine. The kit will produce 6 gallons of wine or about 28 bottles.
Thousands of seasoned veteran home vintners can't be wrong. If you are new to winemaking and simply want to produce the best possible outcome on your first try, then this is the kit for you. Read our post on how to make wine if you need help getting started, but these kits come with simple to follow instructions. Look at this post if you need the equipment to get started making wine.
Buy Winexpert Eclipse Wine Kits
We've put together a list of some of the different varietals of the Winexpert Eclipse wine kits below. You can't really go wrong with any of these. You'll get commercial like results in the comfort of your home.